Aluminium Multifolding Door Specialists, Surrey
Aluminium Multifolding doors from P.R windows Ltd in Surrey, offer flexibility in more ways than one
Flexible Living Spaces
Giving you added flexibility to your living space, aluminium multifolding doors can be used either internally or externally. However, the most popular usage is as a wall separating a room from the garden.
The Standard 'Choices' Aluminium Bi-fold door is the Optio BSF70
BSF70 Aluminium Bi-fold
An intelligent combination of form and function, our highly versatile and market leading Bi-fold sliding door systems gives you maximum control over the style and operations of the door.
(Click on a diagram to enlarge it)
Internally beaded with a softline sash
Stainless Steel Wheels
Unique flush line pop up handle
Magnetic catch for prime/slave leaf
All configurations open in and open out
Thermally broken aluminium sections
28mm sealed unit
Black or White lever/lever prime handles
Black or White internal pop-out handles
'U' value 1.7Wm2K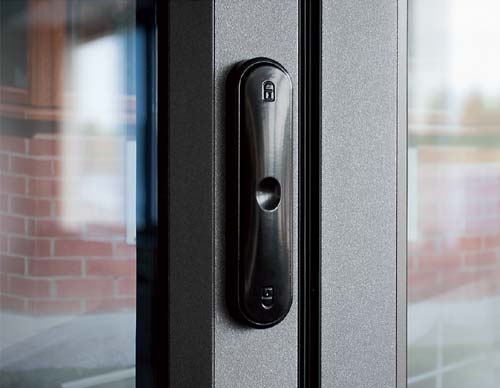 Flush line pop-out handle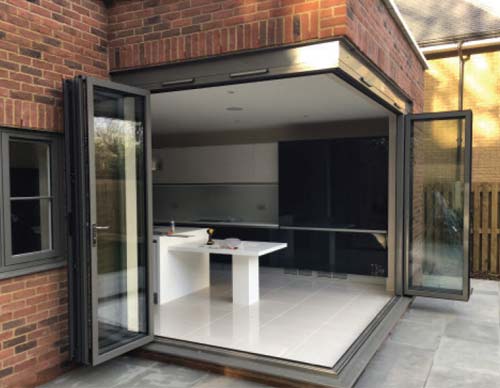 Floating corner post option available
The Premium 'Choices' Aluminium Bi-fold door is the Luminia F82
F82 Aluminium Bi-fold
A contemporary, stylish bi-folding door. With thinner sightlines and interlock of 122mm that provide larger glazing panels without compromising on performance.
Visibly Different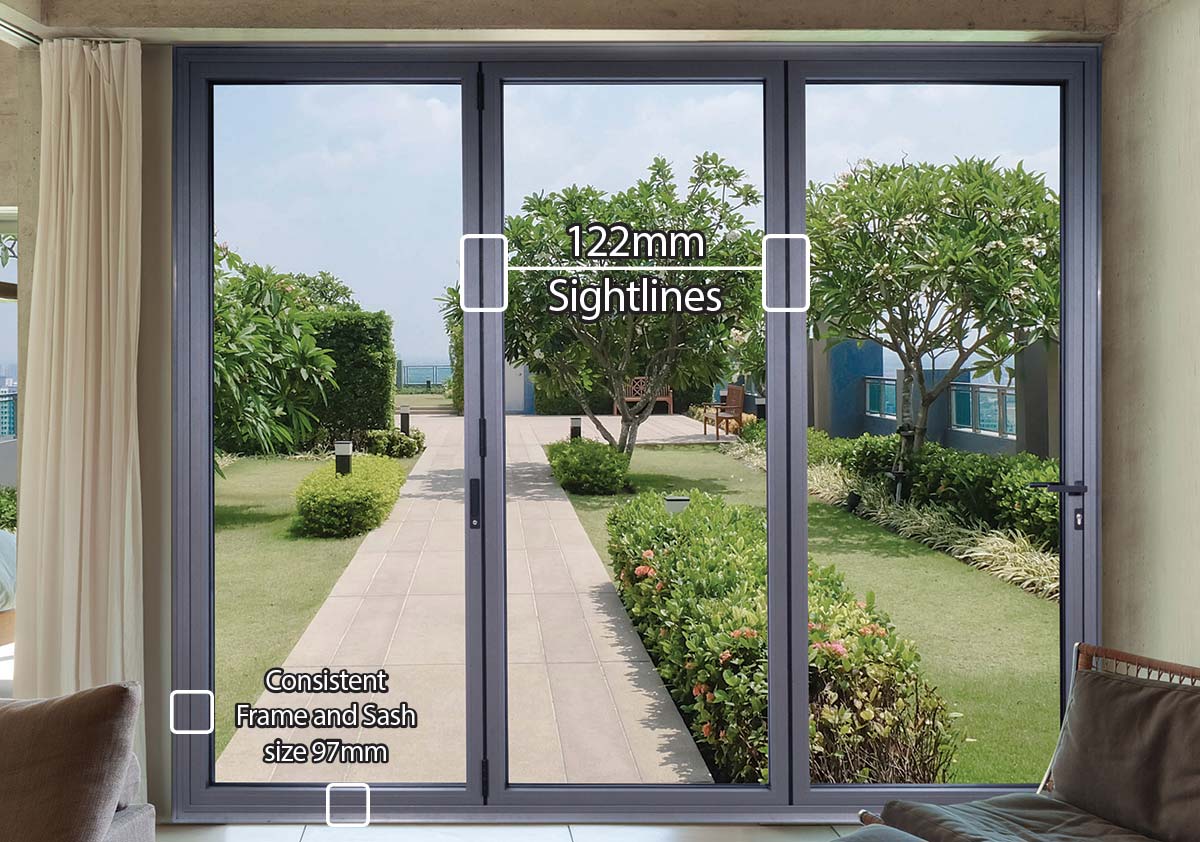 We understand the desire for slimmer sightlines which is why the Lumina F82 has been designed with reduced outer frame rebates that are symmetrical. This boasts greater glazing areas, flooding the room with more natural light than ever before.
(Click on a diagram to enlarge it)
Frame plus sightlines of 97mm
New and improved flush pop out handle
Unique traffic doors
HD compact roller
4 Stainless slim steel rollers
Magnetic catch for prime/slave leaf
All configurations open in and open out
Thermally broken aluminum sections
'U' Value 1.5Wm2K with double glazing
Black or White lever/lever prime handles
Black or White internal pop-out handles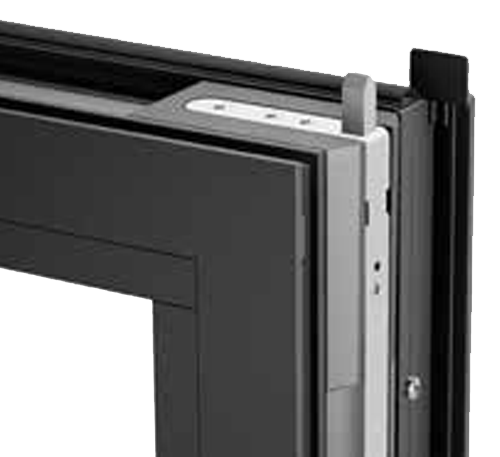 Shoot bolts Top and Bottom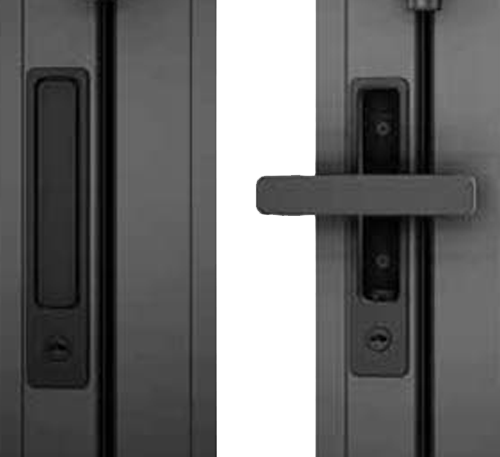 Flush Pop Out T-Bar Handle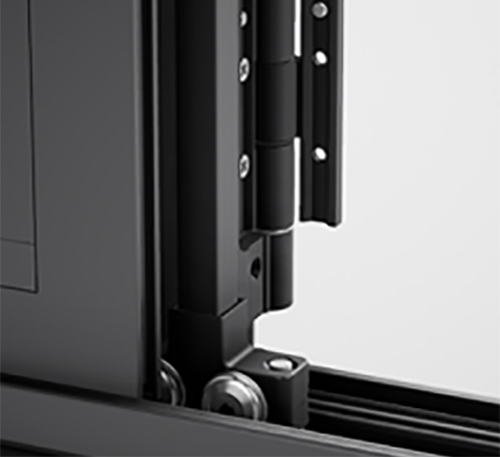 Heavy duty compact rollers
Smart Visofold 1000 Slim Bi-folding doors
Smart Visofold 1000 offers impressive opening apertures that can unite internal and external areas creating unique living and social areas.
A versatile aluminium sliding-folding door for both domestic and commercial applications. In a home, it serves as an excellent alternative to sliding doors or can open up an entire wall as part of a conservatory, offering a beautiful view or a seamless connection with the garden.
For commercial settings like bars, cafes, or restaurants, Visofold creates a glazed screen that maximizes natural light during inclement weather and easily opens up an entire wall in warmer conditions. With various opening configurations to choose from, Visofold doors adapt to suit any application, providing flexibility and functionality.
Enhanced Performance and Versatile Design
Visofold profiles are designed with a polyamide thermal break, enhancing thermal performance and overall U-Value. EPDM high-quality gaskets and weather brushes ensure excellent weather resistance.
Compliant with Building Regulations Document L 2010, Visofold prioritizes security with multi-point lock mechanisms on main opening sashes and shoot-bolt locking on floating mullions.
For accessibility, Visofold doors offer the choice of low thresholds for unimpeded entry or rebated thresholds for improved weather resistance. To suit your style, these doors come in standard or non-standard colors, including metallic, wood-structure, dual color, and Smart's unique Sensations range of textured finishes.
Experience the perfect blend of functionality and aesthetics with Visofold doors.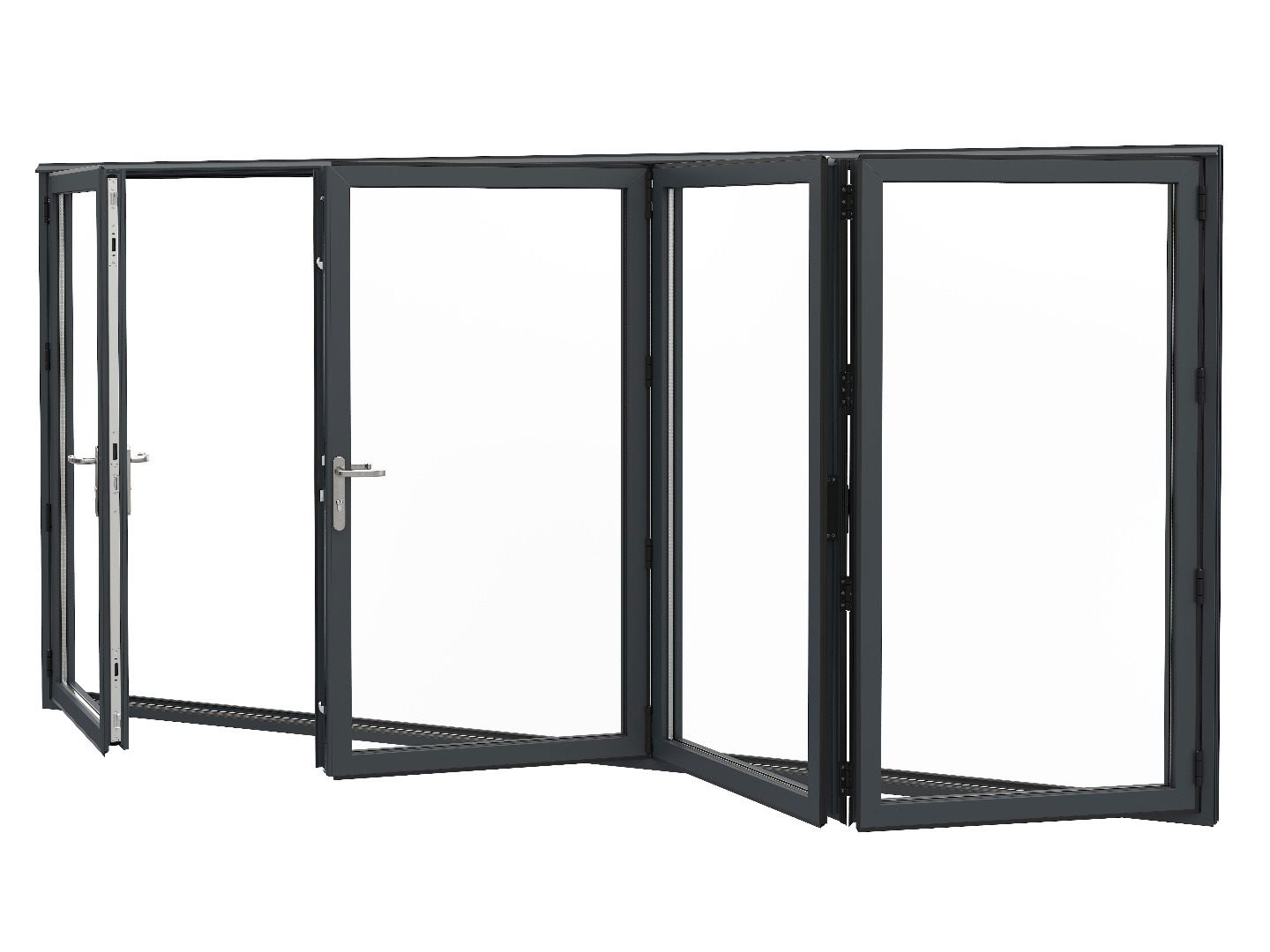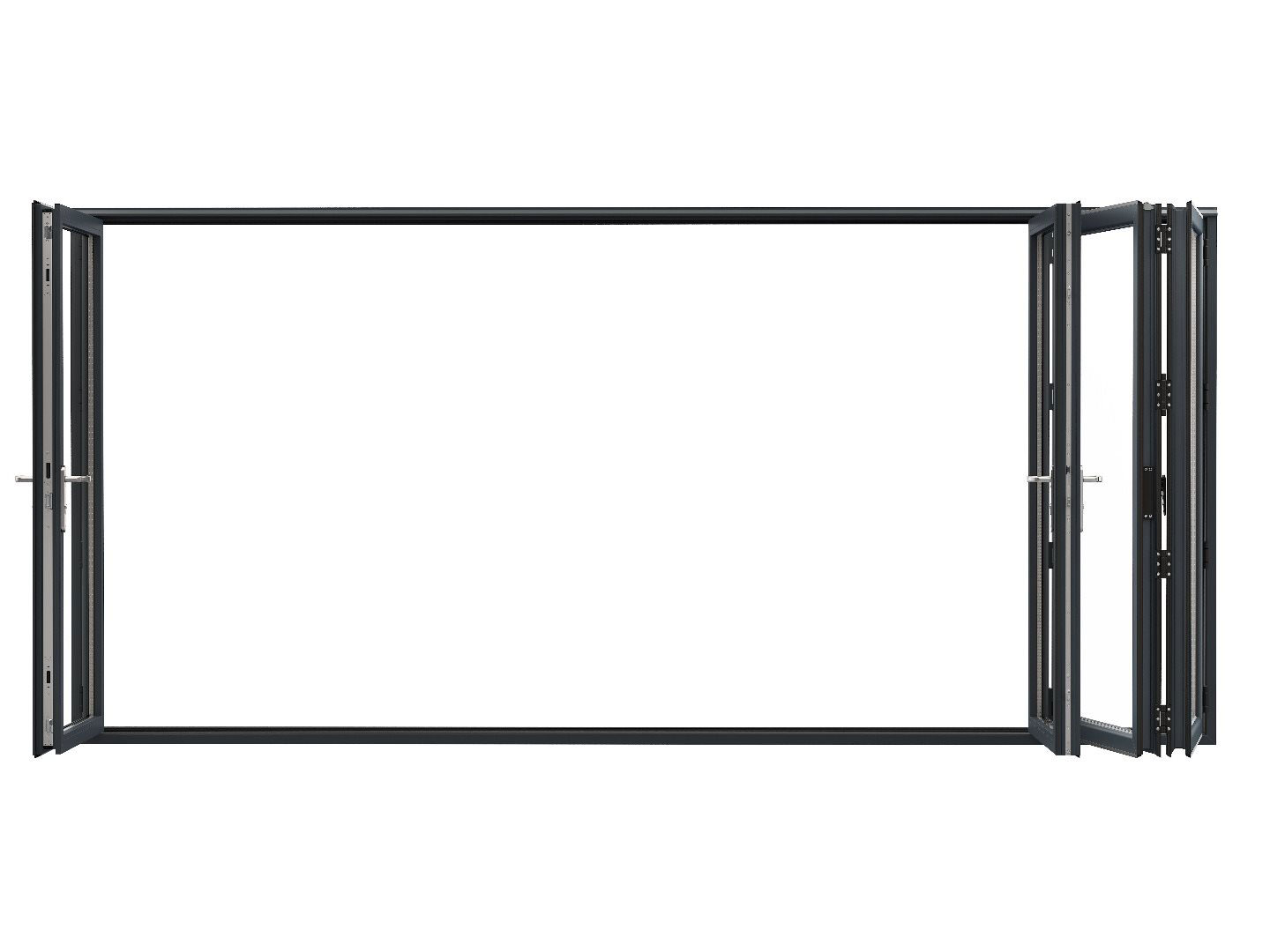 Pre-gasketed 'Quick-Glaze' Bead system
A. Slim line sashes now available with optional integrated gasket.
B. Combined bead/gasket has been designed to be easy to remove should any of the glazing panels need replacing.
C. Cost effective tap-in integrated bead and gasket (rather than clipped in), make installation and glazing process faster, more straight forward
Design features
Pre-Gasketed, 'Quick-Glaze' Bead System
Attractive, slim-line profiles offer reduced sightlines
Fabricated using mitred corners
Domestic style 'lift-up' handle and an adjustable, one-piece keep
Trusted CWG Choices and Visofold Brand
Made from Aluminium Polyamide
Dual Colour Options available
Thermally Broken
NBS Listed
Document L Compliant
Achieves BS 6375-1:2009
Standard Threshold with Optional Cill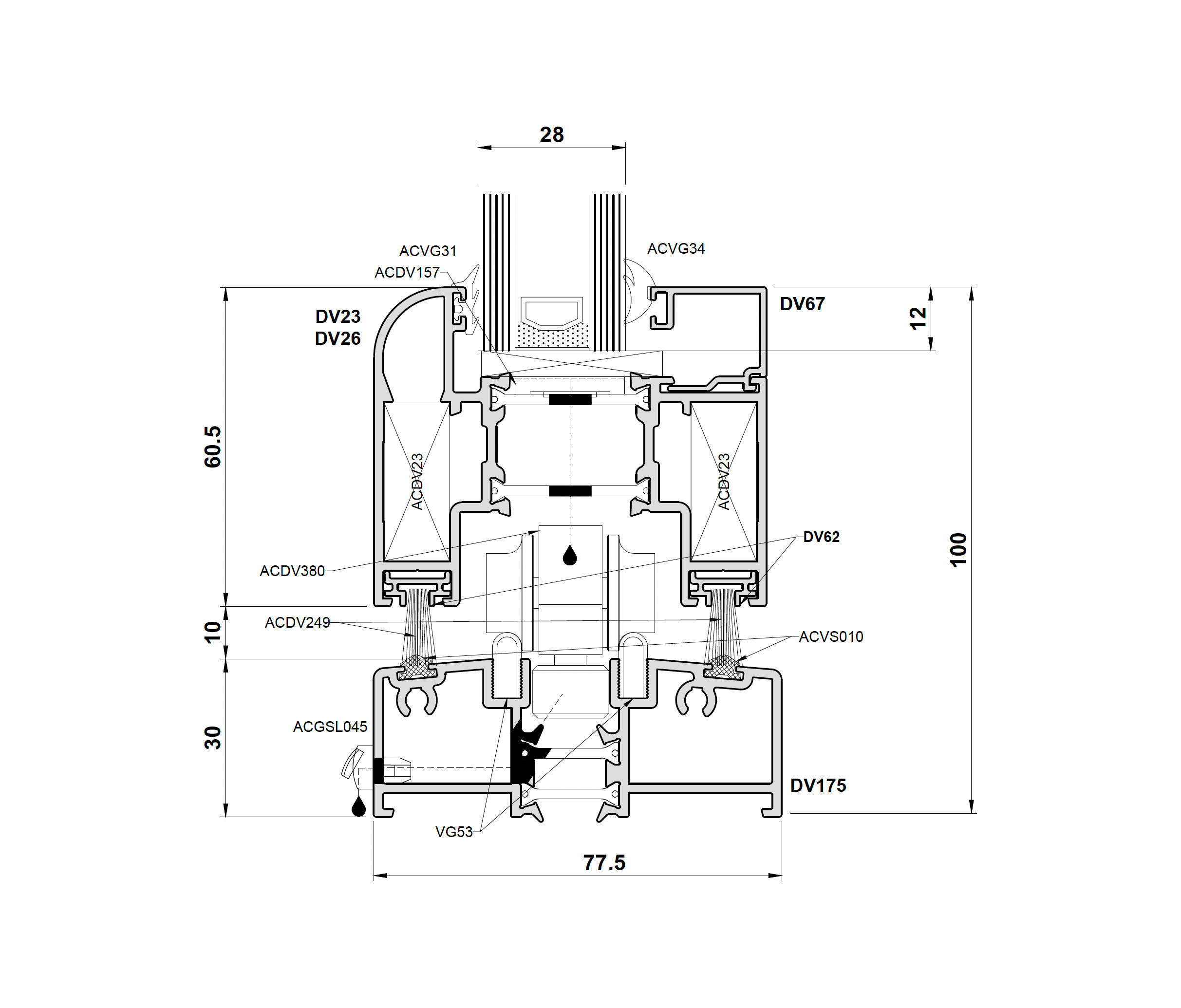 Low Threshold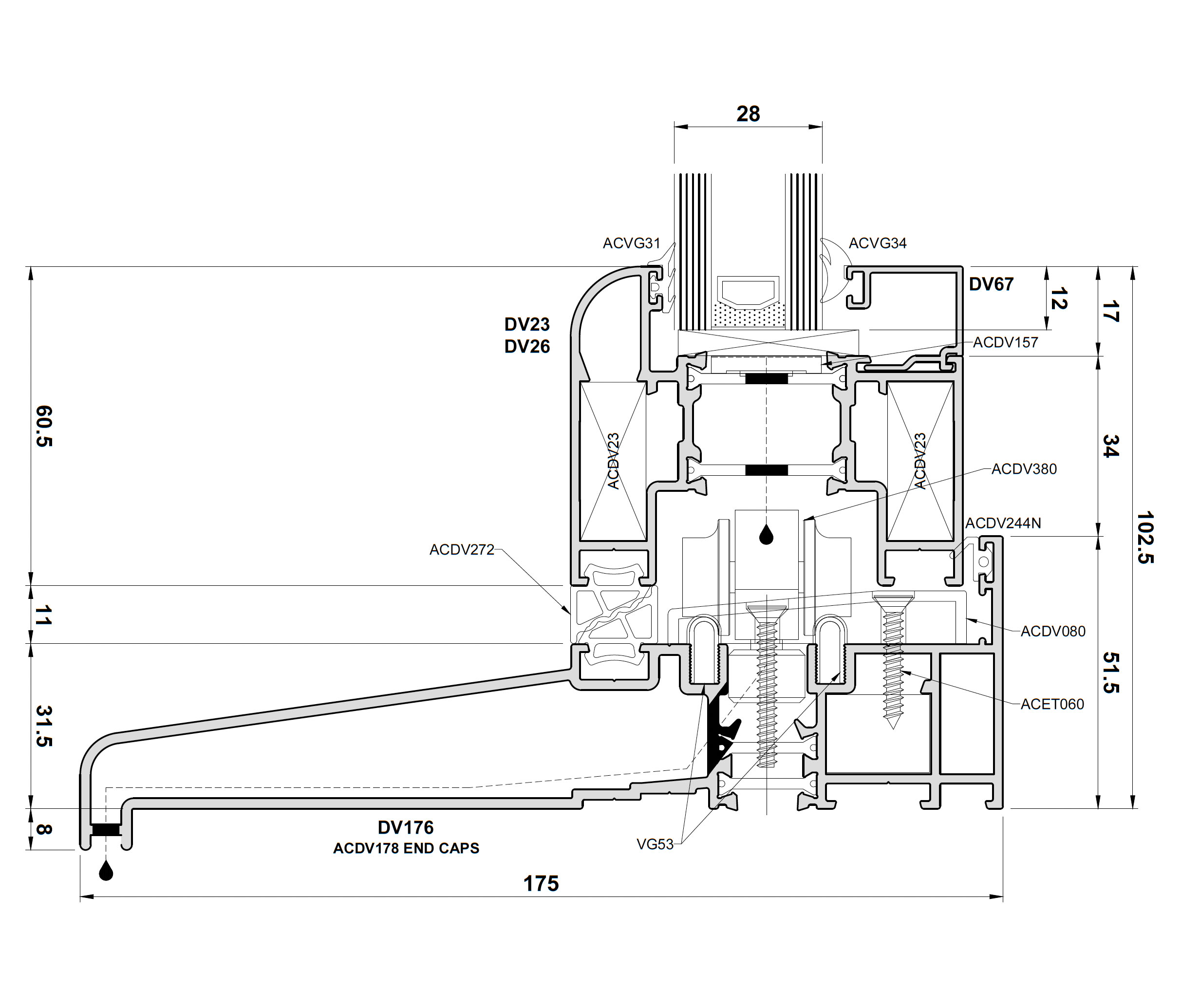 Integrated Threshold
Frame Detail
Interlock
Head Detail with Optional Add-on and Head Drip
Available in any Single or Dual RAL Colour
(Extended Lead Time)
The 'Choices' range of Aluminium Windows and Doors are available in any RAL colour to suit all requirements.
Configurations
Available in a range of styles and designs, panels can be stacked inside or outside of the room, to the left, right or split to stack on both sides. Door sets can be manufactured to replace entire walls to maximise your opening space.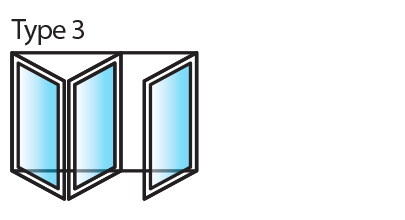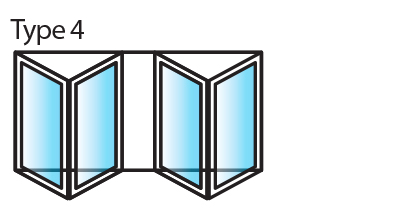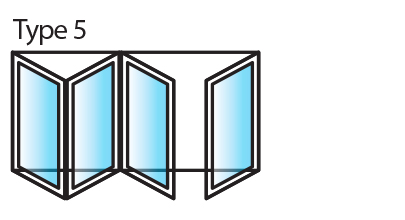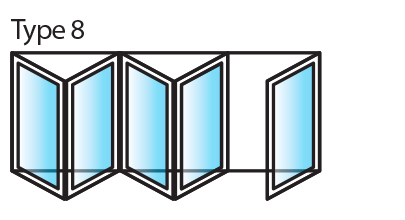 BSF70 - Minimum and Maximum Dimensions
Minimum height 1950mm
Minimum width 1400mm
Minimum sash width 600mm
Maximum height 2400mm
Maximum width 6300mm
Maximum sash width 1000mm
F82 - Minimum and Maximum Dimensions
Minimum height 2150mm
Minimum width 1400mm
Minimum sash width 600mm
Maximum height 2500mm
Maximum width 6300mm
Maximum sash width 1200mm
Visofold 1000 Slim - Max Dimensions
Fixed Max Width (mm) – 1200mm (per sash)
Fixed Max Height (mm) – 2500mm
Fixed Max Weight (kg) – 100kg (per sash)
Glazing (mm) – 28mm Pre gasketed, 24mm, 32mm, 34mm, 36mm double or triple glazed units
Frame Depth (mm) – 70mm
Typical Sightlines (mm) – 132mm
All configuration have lever/lever handles on the prime leaf with the exception of types 1, 4, 6 and 13 which are internal handles only.
Many Door Configurations
Doors and panels can be used in any configuration, style and design with all configurations available in both open-in and open-out options. Stainless steel wheels also ensure smooth and consistent operation, making it truly effortless to let the outside, inside your home.
Whatever you want, you can be sure that a multifolding door will revitalise your room while still working hard to keep your warm and safe.
Cornerless Multifold Door
The Corner less Multi-Fold Door can be used to open a kitchen/dinner up into the garden, resulting in a completely open space with no need for a corner post. The Cornerless option creates open plan living and offers more flexibility for your home
Want to find out more? Request a Callback from P.R windows Ltd at a time that suits you.