Energy Ratings from P.R windows Ltd
The benefit of choosing P.R windows Ltd and the 'Choices' brand is the energy efficient, high specification glazing that comes with them
P.R windows Ltd use EcoClear® as standard in our 'Choices' Windows and Doors and most 'Choices' 70mm UPVC systems are 'A' Energy Rated as standard.
EcoClear® delivers the highest possible window energy ratings and by using EcoClear® you will minimise heat loss, helping to reduce your heating bills.
Using 'Choices' products will give you peace of mind knowing that you have double glazed products of the highest performance, virtually eliminating draughts and condensation.
How Ecoglass Works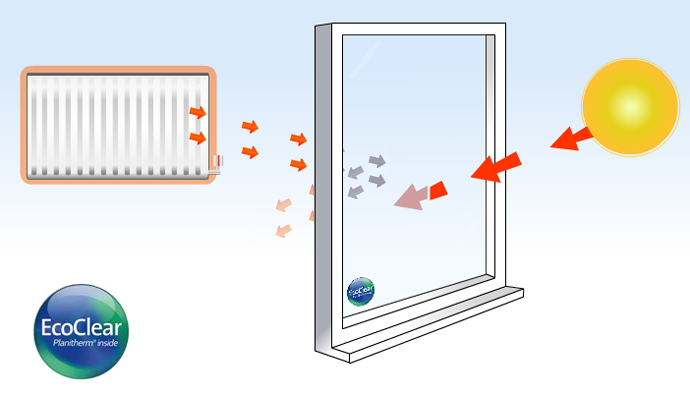 Solar Heat Gain
Utilising EcoClear® glazing in your double glazed units allow the suns energy to penetrate through the glass and into the room, a process called free solar heat gain. However, this is not to say your room will be far too hot in the summer, the technology is highly designed, to let only optimal amounts of the suns energy through allowing for ultimate comfort.
Thermal Loss
At the same time, using advanced glass coating technology, EcoClear® reflects the heat generated inside your house back into the room rather than allowing it to escape through the glazing. The product is so advanced that not only is the coating inconspicuous without any haze or tint effect, it moves thermal efficiency into a new league by reducing or eliminating the need for additional heating, ensuring the windows achieve the highest possible Government-backed Window Energy Ratings (WER) which are designed to demonstrate to consumers which windows perform well in terms of energy efficiency.
Reducing Heating Bills and Helping to Save The Planet
By maximising solar heat gain and minimising thermal and air losses, you can be sure that your 'Choices' Windows and Doors with EcoClear® are working hard to help reduce your heating bills and your carbon footprint.
Want to find out more? Request a Callback from P.R windows Ltd at a time that suits you.