Thermal control
glazing
Reflects heat back into your home, keeping it warm inside when it's cold outside
DID YOU KNOW...
26% of heat in your home is lost through your windows?
That's an awful lot. And with rising energy prices, no one wants to see their hard-earned cash going literally out of the window.
'Choices' windows with Planitherm Total+ on the inside can combat this. The special coating on the glass stops heat from escaping, at the same time capturing warmth from natural daylight. So you can enjoy a warmer home, while using less energy and keeping costs down.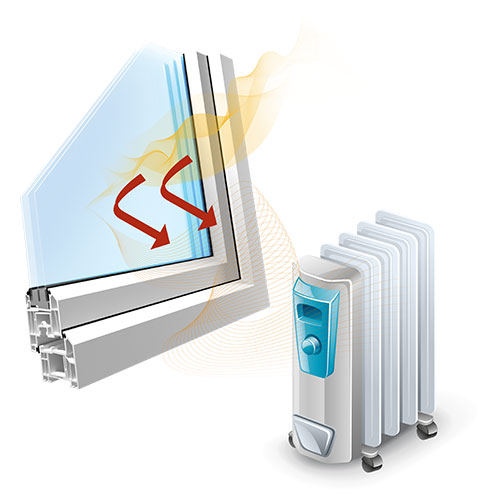 THE BENEFITS
Saves 22% of energy in your home versus single glazing*.
Reduces your gas bills by up to &pound83 a year**.
Keeps your home warm even on the coldest days.
HOW IT WORKS
The microscopic thermal layer on the top of the glass works to prevent heat from escaping. This is so thin you cant even see it - so your windows still look great.
*22% savings are typical but each home will vary. Example is for a semi-detached, 3 bedroom UK home saving &pound179 per annum for an A rated window (source Glass & Glazing Federation and Energy Saving Trust) with an annual gas bill of &pound800 (source: Department of Energy and Climate Change).
**Savings based on a standard 3 bed semi-detached house. With 16.9m2 of glazing, using gas charged @ 4.2p/kwh compared to glass within a UPVC frame with 20mm spacer pre 2002.
Other Features of
'Choices'

'Ultra

4

' Glazing